For over a century, International Women's Day, held on 8th March each year, has marked a day of
celebration and advocacy for women's rights and equality around the world, so what better day to celebrate the women who have joined us on our journey.
For many women, a career in the trades is an empowering experience, but with all manor of obstacles in the way, you might wonder how you can get that first step on the ladder. The Cii is an excellent way to gain some experience, while also building your confidence. We support people from a range of backgrounds to improve their health and wellbeing, learn new skills, achieve accredited qualifications, and make positive life improvements through the renovation of empty properties throughout the local communities of Wales. In doing so, we support people to learn new skills and make meaningful progression into employment or other positive ambitions.
Meet 3 women who have joined us through our projects and see how it has helped them.
Anne joined us on our Neath project. Anne had recently finished her full-time job as a manager to care for her father who had been diagnosed with Alzheimer's. As she spent all of her time as a carer, she felt as though she had lost her identity and confidence, so she wanted to do something empowering and worthwhile. She was also interested in learning skills that could help her work on house renovations in the future.
"My favourite part of the project was the camaraderie, the whole team working together as one" says Anne.
Anne enjoyed having a go on all aspects of the project, from tiling, to painting to the heavy lifting! She commended our project tutors, Dai & Matt, for being extremely patient, tolerant, and giving everyone a chance to try new things.
Due to the ongoing coronavirus pandemic and her father's illness, Anne hasn't had much of an opportunity to utilise her new skills but has been able to put them to use around her home, whilst spending time with her grandson and completing various online courses.
Another participant who was keen to learn DIY and construction skills was Vikki Canniford, who joined us on our Community Legacy Project in Glynneath during 2020.
"I'm better at DIY than I thought, and now I can easily plaster a wall if I need to!"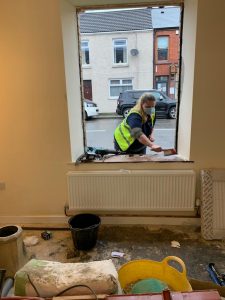 Although Vikki wasn't interested in a career in construction, she has found that taking part in the project has become a talking point, which has opened up some interesting conversations with people.
Vikki really enjoyed meeting other participants on the project and has discussed the option of starting a female DIY service in her local area with other participants. She also enjoyed meeting individuals from different cultures and backgrounds.
One of those participants is Marie Roberts, who is from Mauritius.
Marie joined us on our Glynneath project in 2020 because she wanted to gain some qualifications in the construction industry. With French being her first language, she felt that her language barrier had prevented her from accessing training and employment.
Marie enjoyed all aspects of the project and successfully gained an Emergency First Aid in the Workplace qualification and Health & Safety Awareness certificate. She is keen to gain her CSCS card in the future too.
For many women, a career in the trades is an empowering experience, developing skills that can be applied in daily life, gaining unparalleled confidence, and building a sense of pride that comes with a hard day's work.
How can I get into the industry?
There are many ways into construction, whether you're leaving school or established in your career. You could:
Further information
If you would like further information in relation to our community work or would like to know about the opportunities available, please get in touch through our Contact Page or email us at: info@the-cii.org.