COVID-19
Like the majority of the third sector, our wider communities and the overall Welsh and UK economies, COVID-19 had a significant impact on the Community Impact Initiative C.I.C. and its operations. During the pandemic and subsequent lockdown, the Cii was affected by reduced project funding, a suspended housing market and our most vulnerable community members becoming more vulnerable.
But it wasn't all bad; we were supported by a wide range of supportive project funders, a diligent staff team and the support of our wider communities and other social businesses.
We're now moving forward in this post COVID-19 world, delivering our projects whilst ensuring our participants, staff and stakeholders are all kept safe.
What we're doing to stay COVID-19 safe moving forward…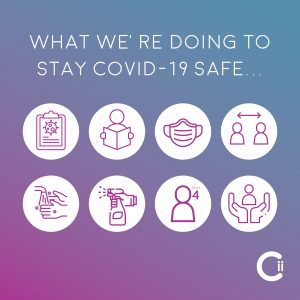 Risk assessment: A Cii COVID-19 risk assessment has been established to manage risk
Staff training: All Cii staff have completed Preventing COVID-19 training
Personal Protective Equipment (PPE): Improved PPE is in place for all participants and staff to ensure their safety
Social distancing: Safe social distancing measures will be followed in line with all Government guidance
Washrooms: All Cii sites will provide a safe space for participants to store their belongings, wash up and wear the appropriate PPE
Hygiene: Strict cleaning and hygiene measures will be implemented at all Cii sites
Project attendance: Project attendance will be capped to four participants daily to ensure effective social distancing
Engagement & Wellbeing Officer: A new role has been created to provide focused employment and wellbeing support for our participants
Listen to our CEO, Trystan, to understand how we were affected and how we're bouncing back stronger than ever!
How we were impacted by COVID-19:
How we reacted to COVID-19: